Citrus tuna salad
This salad highlights a high quality tuna produced by Don Gastronom. You can buy it in the US from gourmet stores online. The tuna texture is moist and firm. The orange and clove give the aroma of the dish a festive character. I'm hooked and will be buying this all the time. There are several other flavors of the same tuna including lemon, honey and mustard and tomato and basil. You could eat straight from the tin, but why not highlight the exquisite flavors in a salad?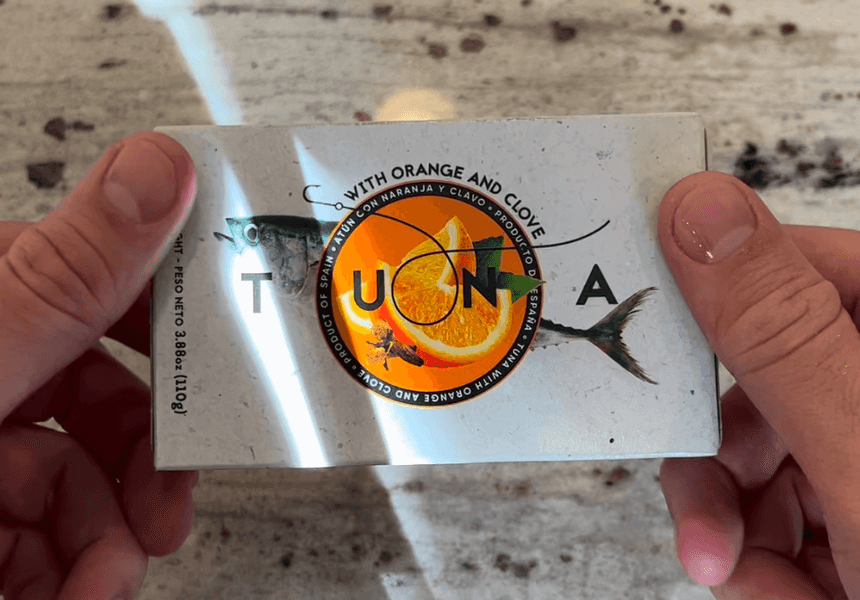 I added citrus and fruit to the dressing to complement the orange and clove infusion in the tuna. The flavor ends up being salty sweet balanced with a bitterness from arugula. Cucumber in the salad absorbs the dressing for a crunchy brightness as well as a cool feeling. The slightly sweet taste of cucumber comes alive with the tangy pop of blackberry. Cucumbers also help with hydration since they are mostly water.

This Tuna Citrus Salad is not only delicious, but it's also very healthy. The tuna provides a great source of protein and omega-3 fatty acids. The tangerine and lemon contain an important dose of Vitamin C. The olive oil in the dressing provides a great source of healthy fats and vitamin C.

When making this salad, it's important to choose high-quality ingredients. Use fresh, ripe tangerines and blackberries to compliment this high quality tuna. The dressing will taste better if left overnight and can be kept for a few days in the refrigerator. You can make a large batch ahead of time and use it in other salads. It combines wonderfully with arugula or any spring mixed greens. Fruit will vary in sweetness. Taste the dressing and adjust sweetness with cane sugar.

This salad is also very versatile. If you want to add some extra flavor, you can add some chopped herbs, such as cilantro or parsley. You can also add some nuts or seeds, such as almonds or sunflower seeds, for a crunchy texture. If you're looking for a little bit of heat, you can also add some diced jalapeños or red pepper flakes to the dressing. If you like the taste of licorice, tarragon and fennel seed would be excellent complementary herbs. Cucumber is handy to have on hand and adds to the crunch and taste of the salad. You can also add in season vegetables such as radishes to add to the flavor. Avocado would also add an unusual creamy dimension to the flavor of the salad and pairs well with the tangy blackberry vinaigrette.

This Tuna Citrus Salad is a great dish that's easy to make and packed with fresh, healthy ingredients. Whether you're looking for a quick and easy lunch or dinner, or just a way to add some variety to your meal, this salad is sure to become a staple in your kitchen.

Enjoy with a refreshing glass of white wine at dinner or in the sunshine. Since it's winter where I am obligated to eat this salad in front of a window. It's bright and reminds me of the Spanish coast with citrus nearby and seafood always available.
Directions