Fisherman's eggs
Let's make an elegant breakfast with sardines
Baked eggs are a versatile and healthy dish that's perfect for breakfast, brunch, or even dinner. They're a great source of protein and can be prepared with a variety of vegetables, making them a perfect option for those following a low-carb or gluten-free diet.
For seafood lovers, baked eggs can be elevated to a whole new level with a classic sardine dish called fisherman's eggs. This delicious variation of baked eggs features a sardine base, which is then topped with eggs and baked in the oven. The result is a rich and flavorful dish that's sure to satisfy any seafood cravings.
To give this dish an elegant twist, you can also add smoked salmon on top of the sardine base before cracking in the eggs. The smoky flavor of the salmon pairs perfectly with the rich sardines and creates a truly decadent breakfast or brunch option.
While fisherman's eggs take a while to bake in the oven, the end result is definitely worth the wait. Plus, this recipe is easily scalable, so you can multiply the ingredients to make a large batch to feed a hungry family or group of friends.
Overall, fisherman's eggs is a delicious and healthy way to enjoy seafood for breakfast or brunch. With its savory sardine base and perfectly baked eggs, this dish is sure to become a new favorite in your recipe rotation.
One additional item that you will find in this recipe is zucchini. Zucchini is a low-calorie vegetable that's high in fiber, making it a great addition to a healthy diet. Just one cup of sliced zucchini contains only 19 calories and 1 gram of fiber, which can help promote feelings of fullness and aid in digestion. Adding zucchini to your fisherman's eggs recipe can help you bulk up your meal without adding extra calories or fat, making it a great option for those looking to maintain a healthy weight.
Zucchini is also a great source of vitamins and minerals, including vitamin C, vitamin A, and potassium. These nutrients play important roles in maintaining a healthy immune system, promoting healthy vision, and regulating blood pressure, among other functions. By incorporating zucchini into your fisherman's eggs recipe, you can boost the nutritional content of your meal and give your body the nutrients it needs to function at its best.
Additionally, zucchini contains antioxidants, which can help protect your cells from damage caused by harmful free radicals. These compounds have been linked to a reduced risk of chronic diseases, such as heart disease, cancer, and diabetes. By adding zucchini to your fisherman's eggs recipe, you can help support your overall health and reduce your risk of developing these types of diseases. Plus, the mild flavor and tender texture of zucchini make it a versatile ingredient that can be used in a variety of dishes, including breakfast and brunch recipes like fisherman's eggs.
Directions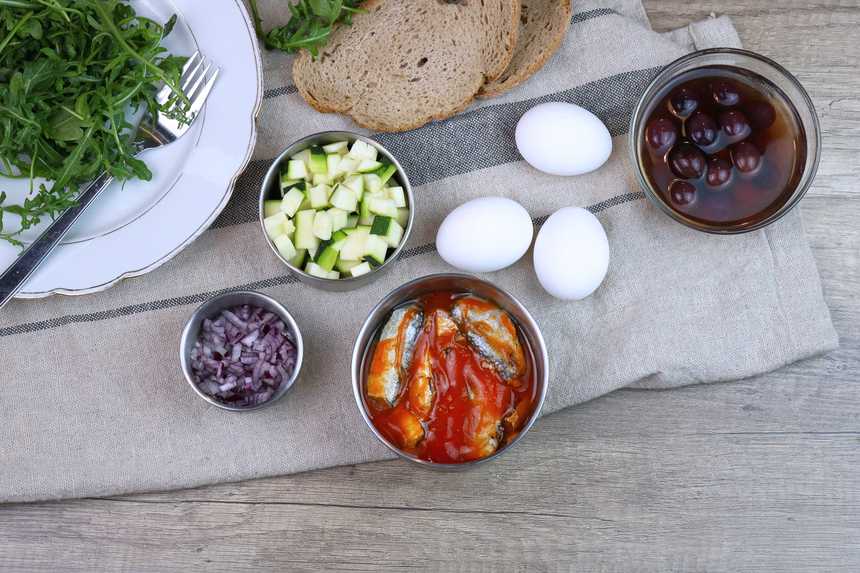 Preheat oven to 350F.
In an ovensafe skillet, fry red onions until soft. Add salt and pepper.
Add zucchini and fry until soft.
Add olives and sardines, stirring to break apart sardines and incorporate the mixture.
In the hash, make three indentations for the eggs. Crack eggs into the indentations.